All over the world, massage is a popular mechanism for achieving relaxation. Though we know a good massage oil to be the cherry on top of all good massages, choosing the right oil can be a frustrating process. Will the oil irritate my skin? Will it stain my sheets? And is it worth the price tag? are common concerns. But look no further, here we have enlisted the best massage oil for every need.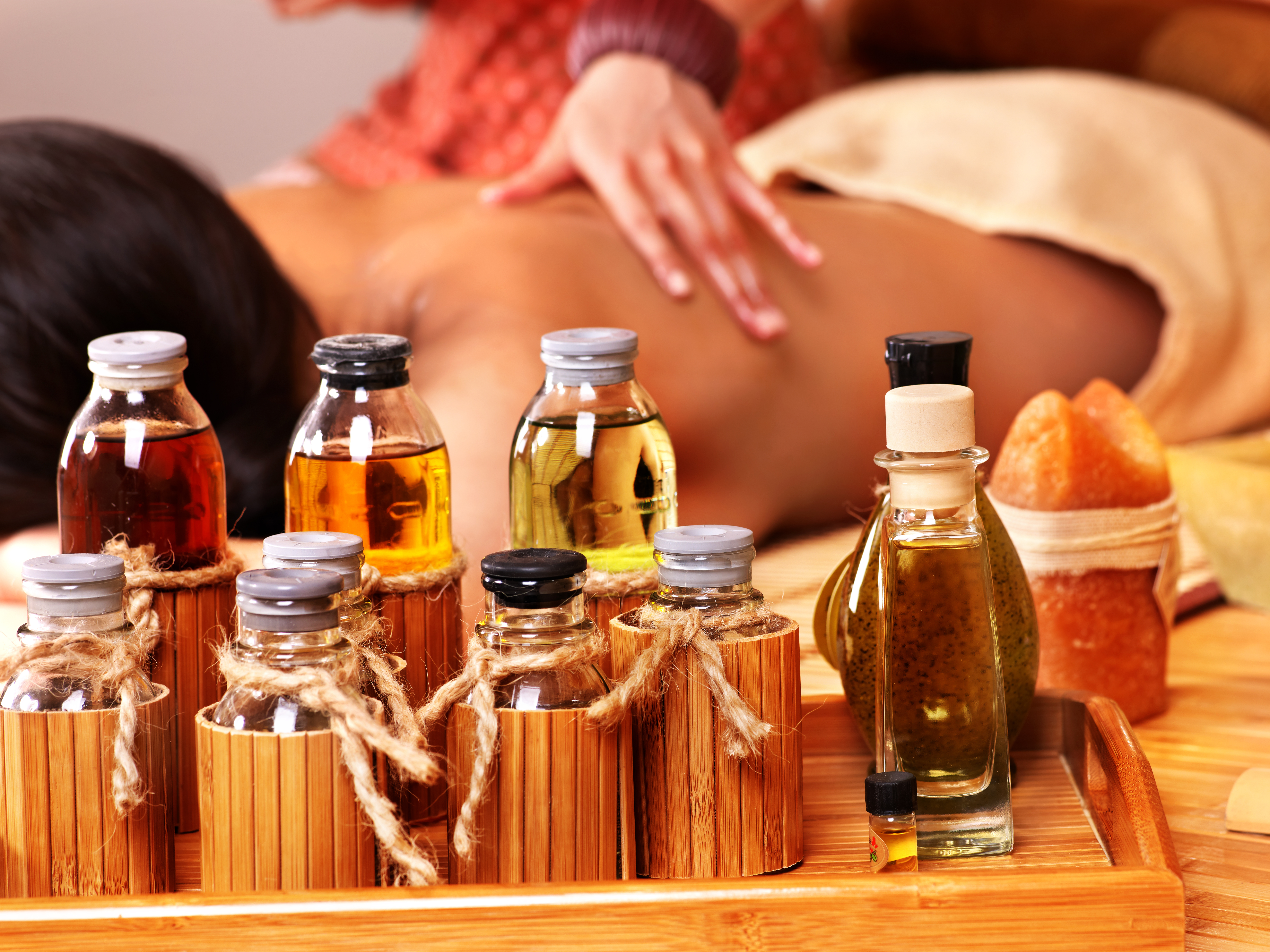 For novices
For those new to massage, choosing which oil to use can be a daunting experience. Every oil has been carefully blended with a range of formulas, offering different scents, textures and properties to immerse the recipient into achieving a variation of copious benefits. Selecting the wrong oil will certainly not ruin the experience, but can act as a barrier to the individual from maximising their full enjoyment and can unhinge the journey into relaxation. For this reason, we have cherry picked the best oil to kick start your massage journey, this being fractionated coconut oil.
Preconceptions of fractionated coconut oil are it of being a white, thick substance, but it is in fact a light and non-greasy liquid which acts as an amazing massage oil. Fractionated means the oil only contains partial elements of the whole oil. Triglycerides (often referred to as fatty acids) are removed, this results in a formula which is stickier and is less slippery than coconut oil. This makes it perfect for shorter strokes targeting problematic areas, which gives the body and mind rewarding stress relief.
Unlike many massage oils, fractionated massage oils washes out of materials and doesn't tend to stain. Those who have performed home massage before will be aware of the stresses of ferociously scrubbing sheets and towels after performing a deeply relaxing massage, which literally undoes all the benefits the massage has just encouraged.
To add more reasons to get your hands on the oil, it also has a long shelf life and is less expensive than most massage formulas, making it essential for giving or receiving your first massage, or for those who want to go back to basics.
500ml fractionated coconut oil can be bought on Power Body for £11. It's suitable for all skin types, including oily and dry skin. Always avoid if the recipient or the giver has coconut or latex allergies.
For those on a budget
So, you may have a taste for DIY massages but your bank balance says otherwise. Bread, milk and new shoes may take priority over the purchase of £15 oil. However, the market offers plentiful massage oils that won't burn a hole in your pocket, starting from as little as £2.99!
Our budget option is currently proving to be a popular choice and it's not hard to see why. Miaflora argon oil is currently on special offer at Holland and Barratt for £6.75, down from £16.99. Yes, you heard right – that's better than a half price discount.
But what makes argon oil so good? Well, it proves to be a great all round massage oil used by many spas all over the world. Not only does it relax the body, but also soothes muscle aches and relieves stressed out joints. It also is popular in the beauty sector by boasting properties which can nourish and protect the skin, hair and nails.
Argon oil penetrates deep into the skin and acts as an overwhelmingly pleasurable moisturiser which gives the recipient a healthy glow like no other. It also leaves no greasy marks on the recipient's body.
To get the most out of your massage, have a shower or bath beforehand to exfoliate the skin to remove dead cells. This will not give the person taking control of the massage better skin to touch, but will also make your body softer than a baby's bum!
Argon oil contains properties which are suitable for all, even those with sensitive skin. It can also be used on the face, but do be careful to avoid contact with the eyes!
Though argon oil might be the budget option, there's nothing that makes it lack in pleasure.
For those who want to mix it up, Sunflower oil is also a cheap alternative which shines in benefits.

For a special occasion
So you and your partner may be are regulars when it comes to playing masseuse and masseur. While massage is always fun, the excitement can sometimes be deflated if each time it encompasses of the same elements. The best massages are when the unexpected occurs, teasing the individual with a build-up of surprises along the way. One of the best mechanisms to do this is by experimenting with new massage oils.
Lavender oil is a unique alternative to the popular coconut, almond and sunflower oil but is the perfect choice for a special occasion. Even better that it has been proven to enhance intimacy and romance between two loved ones.
Deriving from the South of France, it includes properties which act as a calming agent and fast tracks the body and mind into a serenity of tranquillity. The natural remedy also gives a better sense of wellbeing and offers many health benefits, including improved blood circulation and oxygen flow – making it go much further than a tool for a special occasion.
The use of lavender oil for relaxation purposes date back as far as the 14th century, when King Charles VI of France requested his that his housemaids filled his pillows with lavender to help him sleep. So, if it's good enough for a king, it's sure good enough for us!
The oil is on the pricier side of our spectrum, costing £16 per 100ml from The Body Shop, but as it's recommended for a special occasion, it is well worth pushing the boat out.
For vegans
Massage is a deeply relaxing and pleasurable experience, but for vegans the stresses of finding massage oil that they can use make the relaxing experience just so not worth it. Animal fats are a common product in some of the most popular massage oils, making them out of bounds for vegans. Some oils are also not appropriate as they've been tested on animals.
However, we want to save vegans the painstaking process of ferociously checking all the oil descriptions as they struggle to find an oil which can be used by them. Instead, we want to introduce Weleda cellulite massage oil as the perfect choice. The formula encompasses of a unique combination of plant extracts and natural botanical oil, which not only makes the individual feel great, but also look good too.
The oil revitalises the smoothness of skin and stimulates the body to healthily regulate its self-healing process. Frequent use has also proven to reduce the onset of cellulite. When you get your hands on this product, it's impossible to put it down – but don't be afraid about overusing it – the experts advise that if accessible, use it every day.
To make the most out of the massage and to allow the benefits flourish apply the formula into lightly dampened skin, maybe after a bath or shower. This will allow the oil to spread easily and reach deep into the pores, without leaving an oily layer on top.
For vegans with a passion for massage or those who want to try new products, naissance offers a range of massage oil, which uses formulas to promote 'natural healthy living'. All the oils are suitable for those wanting to abstain from animal involved products.
For those who suffer from aches, pains and niggles
For those who endure frequent aches and pains can feel frustrated by regularly taking medication which struggle to tackle the symptoms, or on the opposite side of the spectrum, taking tablets which knock the individual for six – stimulating side effects so severe it's enough to discourage taking the medication.
Massage therapy is often offered as a complementary treatment for a variation of illnesses, as it's often deemed a safe and natural process. This bodywork stimulates the rush of endorphins, which act as the body's natural painkillers, by masking the pain from entering the central nervous system.
Though massage itself is beneficial for relieving ailments, it can be enhanced when complimented with pain relief massage oil. The market is saturated with a variation of massage oils used for illness, but which one should you try?
Well, that entirely depends on your illness and onset of symptoms, but rosemary oil has proven to boast a formula which is effective at treating arthritis, grout, muscle cramps, rheumatism and neuralgia. As well as easing tired muscles and improving the function of the digestive system.
A member of the mint family, rosemary is taken from the evergreen bush and links back to medicine which derives as far as ancient Greece. It's proven to work effectively because of its stimulating nature. When a person is rundown, the warm and rich properties of rosemary awaken and uplift the senses of the body and mind – ultimately making them feel better,
Encompassing 100% pure herbal elements, rosemary oil is completely natural and is suitable for all skin types including oily and sensitive skin. Order yours today from Ecco Verde for £12.19 per 100ml.
What to do next
Now you have the complete lowdown of which massage oil to get which suits your needs, it's time to learn the basics of understanding your oil(s). All oils vary in price, texture and contain different properties, but when it comes to the etiquette of how to take care and use the lotions the same principles apply.
Apart from the variation of benefits which massage oil encourages, the main purpose is to lubricate the skin to prevent friction from occurring. Oil provides a smooth and gentle glide over the body's surface. See massage oil as the preparation before a race, you wouldn't start running before warming up the muscles.
The best way to do this is by squirting a small amount of massage oil into the hands and using rubbing sensations to warm up the formula – before proceeding with the rubdown on the recipient. Avoid pouring massage oil directly on the body, as the cool nature can be unpleasant. Make sure you keep topping up the oil little and often to make the massage most pleasurable.
If you have some oil left, be sure to store it in a cool place – maybe even in the fridge. Always avoid direct contact with sunlight as this can lead to the absorption of the beneficial properties.
Also, if you suffer from allergies or have skin types which are affected by certain products, it's important to check the formulas in the massage oil are safe for your use before buying.
So, we've kept you on this page for long enough – now go and purchase your favourite for some massaging fun!
For trying something more interesting, how about nuru seaweed oil? Book a nuru massage in London, let a professional Asian masseuse put this oil all over you and massage you with her whole body. Book now – http://www.oriental-massages.co.uk/nuru-massage-london/